GROUPWORK
This page list the steps taking for a Group Project I did and part of the Instructional Design and eAuthoring module.
A quick video we shot in Week 3 detailing our plans
Robs story board for submission
Slideshare version
Articles I researched
Click here for Annotated Bibliography
Click here for Bibliography
Bentosela – Barrera – Jakovcevic – Elgier – Mustaca (2008), Effect of reinforcement, reinforcer omission and extinction on a communicative response in domestic dogs (Canis familiaris), Behavioural Processes, Volume 78, Issue 3, July 2008, Pages 464-469
dogscholar.com (2009), Choosing the Right Dog Trainer, http://dogscholar.com/choosing-the-right-dog-trainer/, accessed 7 November 2013
dogscholar.com (2010), Rubbing Your Dog's Nose In Its Mess Is a Waste of Time For Both Owner and Pet, http://dogscholar.com/rubbing-your-dogs-nose-in-its-mess-is-a-waste-of-time-for-both-owner-and-pet/, accessed 7 November 2013
Heron – Shofer – Reisner (2009) Survey of the use and outcome of confrontational and non-confrontational training methods in client-owned dogs showing undesired behaviors, Applied Animal Behavior Science, 117, 47-54.
Yamamoto M. , Kikusui T., Ohta M. (2009), Influence of delayed timing of owners' actions on the behaviors of their dogs, Canis familiaris, Journal of Veterinary Behavior: Clinical Applications and Research Volume 4, Issue 1 , Pages 11-18
 Storyboard design of webpages by me
Webpage Sitemap by Eva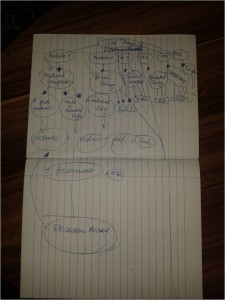 My Gagné 9 Steps to instruction on teaching a dog to lie down
Evaluation
LORI Evaluation done by Eva
 LORI done by Rob
Nielsens heuristics Evaluation of site done by Hugh
Here is a quick video of my daughter training our puppy after looking at the website and watching the video on teaching a dog to lie down.