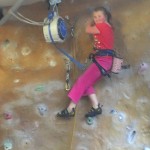 We headed to Hot Rock in Tolymore today. Some good routes, the girls did some 5's and 6's both top rope and leads. I tried a couple of the 5's. The auto belayers were hard to get use to and I ended up back climbing, the first one held OK but it's to just too difficult to jump off and trust it. The girls got use to them in no time and were flying up and down the routes.
The girls had an opportunty to abseil as well, they enjoyed that as it was a bit different. The bouldering wall was interesting with a few difficult problems. We did a pockets only route at the end that was good.
Here are the girls at the top on the auto belayers.